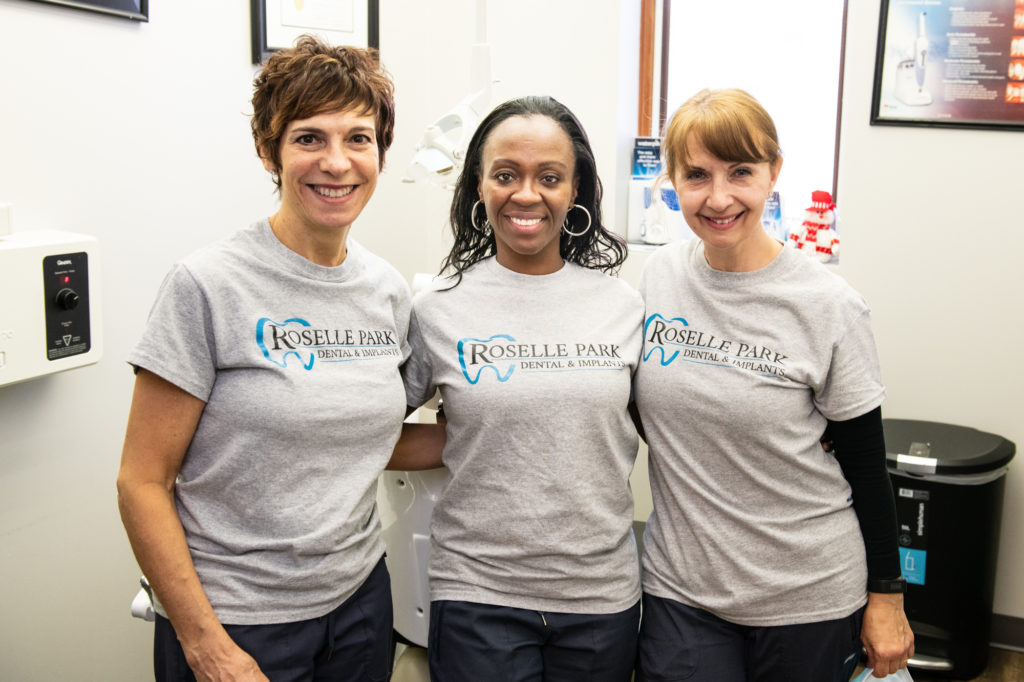 Written for Roselle Park Dental & Implants by Sara Magnola Taner
This October, celebrate national dental hygiene month by thanking your dental hygienist and taking great care of your teeth!
Good dental hygiene is of the utmost importance to your oral and overall health, and visiting your dentist and hygienist twice a year for professional cleanings and checkups is one of the best ways you can ensure your healthy smile will last for a lifetime!
This year, the American Dental Association (ADA) is focusing on four routines to help people maintain healthy smiles: brush, floss, rinse, and chew!
Do You Know the "Correct" Way to Brush Your Teeth? Proper brushing technique is to hold the tooth brush at a 45-degree angle to the gum line and gently move it back and forth, making sure to clean both the inside and outside of your teeth. Make sure to use a soft bristle brush that fits easily around your teeth and replace it every two to three months.
To Floss or Not to Floss – Despite recent media surrounding the effectiveness of regular flossing, dental professionals still advise that we floss every day to keep our teeth and gums their healthiest! In addition to preventing gum disease and tooth decay, it provides a regular opportunity to closely exam inside the mouth for redness, swelling, or chipped or broken teeth.
#DoTheSwish – We all know that using mouthwash is a great way to freshen our breath, but did you know it also helps to prevent tooth decay and gingivitis? When used before brushing and flossing, it can help to remove additional food particles that could otherwise become cavity causing plaque build-up.
Choose What You Chew Wisely –Enjoying sugar-free gum can have several benefits for your oral health in most instances. The physical act of chewing causes the body to increase salvia production, which then helps to wash away food particles after a meal or snack. Additionally, most sugar-free gum is sweetened with xylitol, a naturally occurring alcohol found in many fruits and vegetables. Xylitol is proven to inhibit the growth of a bacteria that causes cavities.
This year for the very first time The American Dental Hygienists' Association (ADHA) has partnered with Walgreens and Listerine to raise awareness for national dental hygiene month. Search for a participating Walgreens near you and #DoTheSwish for a chance to win!
Call us today to schedule your next dental cleaning and checkup: 908-998-4698!