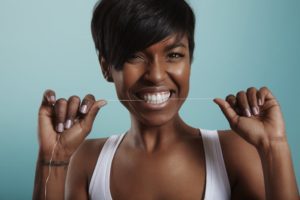 Since starting social distancing a few weeks ago, you've tried your best to limit your in-person contact with others. You've worked from home, ordered your groceries online, and stayed in as much as possible. Even your dentist in Roselle Park has temporarily closed their office doors because of COVID-19! During this time, it is important to make the most of what you have and use your supplies wisely, especially dental hygiene products. Until your dental office reopens, what you do at home during quarantine can either help or hurt your oral health. Here are some ways to make sure your smile can stay strong moving forward.
Brushing Every Day
You already know that you need to brush your teeth twice daily, but are you sure you're doing it correctly? For example, do you go for a full two minutes each time you brush? This ensures that you've thoroughly cleaned all tooth surfaces. In addition, if it has been a while since you've switched out your toothbrush more than three or four months, do so now. Especially if someone in your family has been sick recently, changing your toothbrushes can reduce the chances of spreading the illness to others or becoming re-infected.
Using the Right Amount of Toothpaste
More is better, right? Actually, not always. When it comes to your oral care products, you don't have to overdo it to get the job done right. A small dab of toothpaste the size of a pea is enough to clean your teeth. Any less, and you may not have enough to cover your entire mouth; any more, and you could waste valuable supplies.
Flossing Every Day
Plaque and bacteria love to hide in between teeth where toothbrush bristles can't reach. There they can cause gum disease or tooth decay, leading to a dental emergency. That's why you need to make sure you floss at least once every day. When you dispense the floss, keep in mind that you only need about 18 inches to get between all your teeth. As tempting as it may be to save on resources, floss should never be reused or shared.
Rinsing with Mouthwash
For added protection, you may choose to rinse your mouth with antibacterial, fluoride mouthwash as part of your dental hygiene routine. As with toothpaste, your level of clean does not improve with a more copious amount of mouthwash. Stick to the amount recommended on the bottle and swish for as long as directed for optimal results.
While you may not be able to get your routine dental care from your dentist during this time, you can still take ample care of your oral health. By following these tips, you can make sure that your teeth and gums remain free from infection and decay and your smile keeps shining through the pandemic.
About the Practice
With five dental providers on staff, Roselle Park Dental & Implants can meet a wide variety of needs in one convenient location. Although temporarily closed for all non-essential dental procedures due to COVID-19, we are available to treat emergency patients when needed. To learn more about at-home dental care or to schedule an appointment with one of our specialists, you can contact Roselle Park Dental & Implants here.