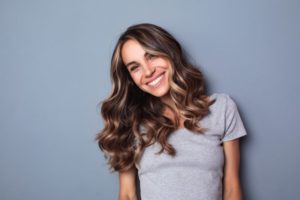 It's common knowledge that brushing and flossing your teeth daily is essential for a healthy smile. However, many people don't realize that you can also improve your oral health by enhancing the look of your pearly whites. In fact, there are numerous health benefits of cosmetic dentistry that are designed to keep your smile looking and feeling its best for years to come. Here are a few ways your Roselle Park cosmetic dentist can help you stay healthier in the long run.
1.) Strengthen Your Jawbone with Dental Implants
As soon as a tooth goes missing, your jawbone begins to deteriorate. While there are many ways you can replace your tooth above the gumline, dental implants are the only option that restores its roots as well. This continues to stimulate blood flow in the jawbone, which prevents reabsorption as well as the sunken, aged appearance of facial features that comes with it.
2.) Prevent Tooth Sensitivity with Professional Teeth Whitening
Everyone wants a brighter smile. Unfortunately, all those over-the-counter teeth whitening products can easily lead to subpar results and sensitive teeth. Your Roselle Park dentist can help you comfortably and quickly achieve the dazzling results you're looking for with a professional whitening treatment.
3.) Prevent Damage & Decay with a Lifelike Dental Crown
If you have a tooth that is damaged, worn-down, or weakened, it can be fitted with a beautiful dental crown. This tooth-shaped cap will restore a healthy-looking shape, size, and color to the tooth. Additionally, it will hold the tooth together while protecting it from further damage and warding off bacterial infections.
4.) Practice Better Dental Hygiene with Cosmetic Dentistry
After investing into the appearance of your smile, you'll be much more conscious of how well you're taking care of it. Numerous studies have found that those who use a cosmetic treatment to enhance the appearance of their teeth show a marked improvement in their at-home dental hygiene.
5.) Protect Your Overall Health with a Clean Mouth
While diligently keeping your mouth clean will help the results of your cosmetic treatment last longer, it will also improve your overall wellbeing. Poor oral health has been connected to a wide variety of systemic health concerns, including respiratory infections, rheumatoid arthritis, and heart disease. Beautifying your smile can help get your oral health back on track, which will lower your risk of these serious issues.
6.) Boost Your Mental Wellbeing with a Beautiful Smile
When you're pleased with the results of your cosmetic dental treatment, it shows! As you naturally begin to smile more, you'll frequently trigger the release of feel-good chemicals like endorphins and serotonin in your brain, which fosters sensations like confidence and happiness, lowers your blood pressure, and strengthens your immune system.
Cosmetic dentistry is about much more than just aesthetic appeal. When you keep your smile looking its best, your whole body will benefit!
About the Practice
At Roselle Park Dental & Implants, we are committed to helping our patients achieve a beautiful, functional, and pain-free smile that improves their quality of life. With convenient hours, comfortable amenities, and a focus on honest and trustworthy relationships, we strive to make optimal oral health an attainable goal for everyone. Our team of highly trained and specialized dentists uses the latest dental techniques and state-of-the-art technology to ensure that the results of your treatment are comfortable, dazzling, and long-lasting. If you'd like to learn more about improving your smile and your health with cosmetic dentistry, feel free to reach out via our website or at (908) 245-1745.