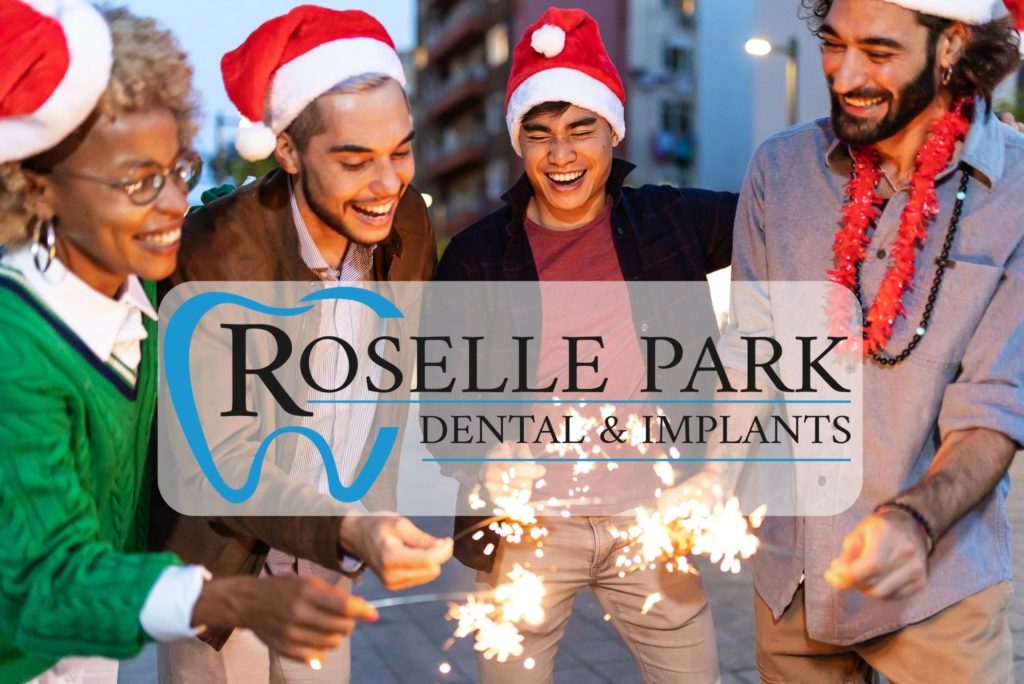 Do you avoid social gatherings because missing teeth make it hard for you to eat or talk? Do you hide your smile out of embarrassment over stained teeth? Are crooked or broken teeth causing you pain or making it difficult to brush or floss your teeth?
If you answered "yes" to any of these questions, then make this your season to shine again! Improving the look, functionality, and health of your teeth and mouth can improve your overall quality of life and restore your self-confidence.
Schedule Your Next Cleaning
Visiting us at Roselle Park Dental & Implants for a professional cleaning and examination is the first step towards a more attractive and healthier smile. During your cleaning, a dental hygienist will use special tools to efficiently remove plaque buildup and bacteria that will help to lessen any tooth discoloration. One of our highly trained dentists will then thoroughly examine your mouth, teeth, and gums, and identify any other dental issues, such as additional staining and any damaged or missing teeth. Our friendly staff members will then help you understand your treatment options.
Brighten & Whiten
Tooth discoloration can be caused by something that is coming in contact with your teeth or by factors occurring within your body. It can also be age-related as people get older. The result is that your teeth may be a darker shade, change colors, or develop spots.
Avoiding certain foods and drinks, such as coffee, red wine and even some fruits and veggies, as well as practicing good regular dental hygiene habits, can help to reduce the occurrence of tooth discoloration. However, if the damage is already done, or being caused by other unavoidable factors, such as genetics or certain medications, then getting your teeth professionally whitened can dramatically enhance your confident, beautiful appearance with a simple and non-invasive cosmetic service. At Roselle Park Dental & Implants we offer both in-office or take-home whitening options, depending on your preferences.
Straighten Crooked Teeth
Misaligned teeth are very common in both kids and adults. Adult teeth often grow in crooked, or they can come out of alignment over time due to prolonged habits or behaviors, such as thumb sucking or tongue thrusting. Genetics, poor nutrition, insufficient dental care, and facial injury can also be causes of misaligned teeth.
If your teeth are not perfectly straight, but it does not interfere with your life, cause health issues, or bother you in any way, then it is not a condition that needs to be addressed. However, for many people crooked teeth can cause issues such as feelings of embarrassment about their appearance, as well as difficulty eating or speaking. Teeth that overlap severely can also make it challenging to brush or floss effectively.
If you want to improve your quality of life and straighten your teeth, there are multiple options available at Roselle Park Dental, for kids and adults alike. We offer the two most common types of orthodontics: traditional braces and custom aligners, such as Invisalign. Both options work in the same way – by applying gradual pressure that slowly shifts your teeth into a better position over time. Our skilled orthodontist can discuss your needs to help you decide which option will be the best fit for you.
Transformative Tooth Replacement
Losing one or more natural teeth can have serious negative repercussions for your health, your sense of self-confidence, and your overall quality of life.
Missing teeth can be the result of genetics, accidents, poor nutrition, aging or poor dental hygiene habits. While saving your natural teeth is always the best option, it is not always possible. There are several tooth replacement options available, including dental bridges and dentures, but dental implants offer many benefits over the others, including:
Optimal Oral Health: Implants do not require that other healthy neighboring teeth are altered for support. Additionally, implants allow for adequate space between teeth which allows for effective cleaning.
Restore Appearance and Self-Esteem: Dental implants look and feel like natural teeth. Getting a bright brilliant smile that you can be proud of will help to boost your self-esteem.
Comfortable Eating and Improved Speech: Since dental implants become a part of your mouth, they mimic the functionality of real teeth – vs. dentures that can slide around – allowing you to speak and eat normally without discomfort.
At Roselle Park Dental and Implants, Dr. Oshidar specializes in this state-of-the-art field, and he and his team utilize cutting-edge technology to ensure precise, accurate transformative tooth replacement with dental implants.
If you are ready to give yourself the gift of the beautiful and healthy smile you deserve this holiday season – we can help! Call us today (908) 998-4698 or visit: www.roselleparkdental.com.
Author: Sara Magnola Taner is an online marketing and communications specialist – with a website development and editorial background – who has 15 years of experience creating and editing clear, compelling content on diverse topics across a wide range of mediums.