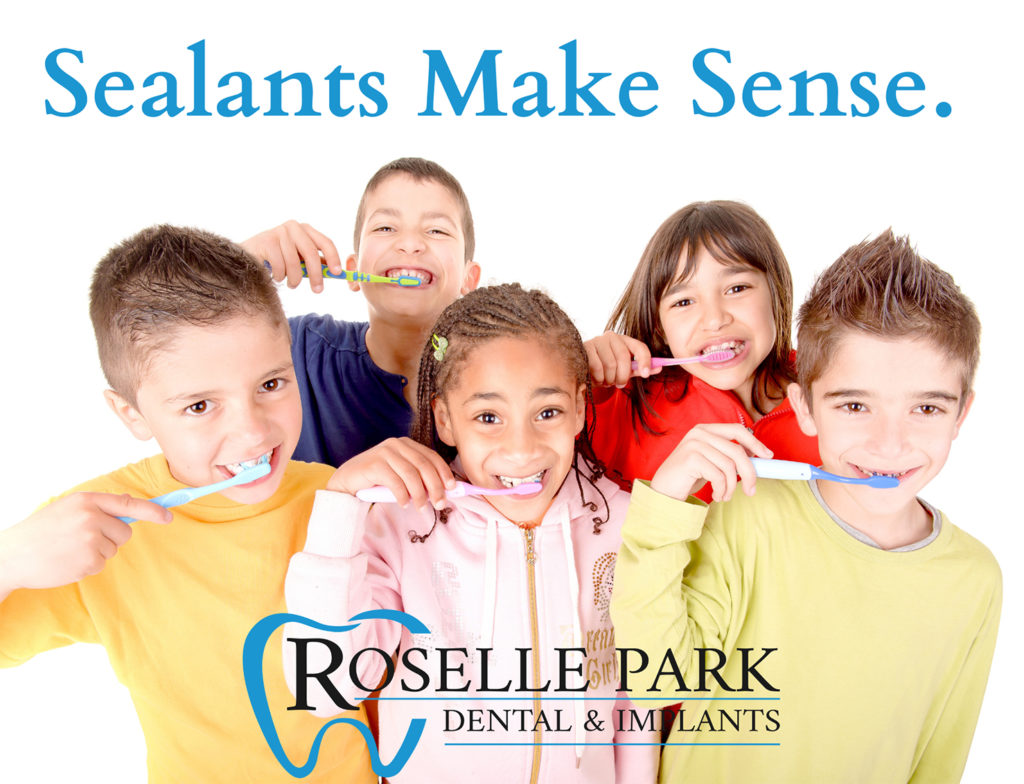 Happy National Children's Dental Health Month! To celebrate the 2022 theme of "Sealants Make Sense", the American Dental Association (ADA) is providing resources and supporting information to bring together healthcare providers, patients and educators in support of this important component of caring for kid's teeth, mouth and gums – to keep them smiling and healthy for a lifetime.
Did you know that over 75% of dental decay occurs on the chewing surfaces of our back teeth and molars? Due to the rough, grooved surfaces of these teeth, they become the perfect hiding spot for food remnants and cavity-causing bacteria. While proper brushing and flossing is the most efficient way to protect these teeth, the back teeth and molars are especially difficult to keep clean, especially for younger patients who are still learning how to brush and floss correctly.
The good news is that applying sealants – especially when young kids' molars are first emerging – is a proven way to help protect these vulnerable areas from decay and eventual damage.
Why Are Sealants Important?
Sealants are a simple, thin layer of dental plastic that once adhered to the back teeth, create a smooth surface that is much easier to keep clean and cavity free. Studies show that having sealants applied to your molars reduces the risk of decay by nearly 80%!
Without sealants, food particles leftover in your mouth produce acid that eat away at your tooth's surface creating holes where cavities form. Sealants, once adhered to the back molars, create a safety barrier against harmful bacteria. They can even be used on teeth that already have early signs of decay to stop further damage from occurring. And since they are clear, the area of concern can still be monitored under the sealant.
Start Young for Best Results
While sealants can be beneficial to people of all ages, children who get them at a young age receive the maximum advantage. According to a report released by the CDC: "School-age children (ages 6-11) without sealants have almost 3 times more 1st molar cavities than those with sealants."
Kids first set of temporary – or baby – molars come in around the age of 6 and then their permanent – or adult – molars replace them about 5-7 years later. Applying sealants to these teeth as soon as possible once they have emerged, protects them from decay that can lead to additional dental issues as they age, including pain, infection and breakages.
What to Expect if you "Seal the Deal"
Roselle Park Dental & Implants can provide an extra layer of protection for you or your children's teeth in the form of dental sealants! The application process can be done quickly during your regular dental checkup and without discomfort. The first step is to dry the surface of your tooth before applying an acidic gel that will create a rough surface which will allow for a tight bond to form between your tooth and the sealant. After rinsing off the gel and drying the teeth again, the sealant is added and illuminated by a blue light for a few moments as it hardens. Each application should last for several years and will be checked by the dentist during routine visits to ensure they are in good condition and to determine when they should be redone.     
At Roselle Park Dental & Implants We Help Little Smiles Shine! Helping younger patients enjoy bright, healthy smiles is very important to us. That's why our team of doctors includes Dr. Reham Hassan, a pediatric dentist who cares for every child with enthusiasm, compassion, and patience with the goal to relinquish any fear of visiting the dentist and replace it with smiles! Dr. Hassan cares for every child – encouraging bright smiles and happy, healthy living.
Call us today at (908) 998-4698 – or visit us online – to schedule appointments for the whole family!
Author: Sara Magnola Taner is an online marketing and communications specialist – with a website development and editorial background – who has 15 years of experience creating and editing clear, compelling content on diverse topics across a wide range of mediums.