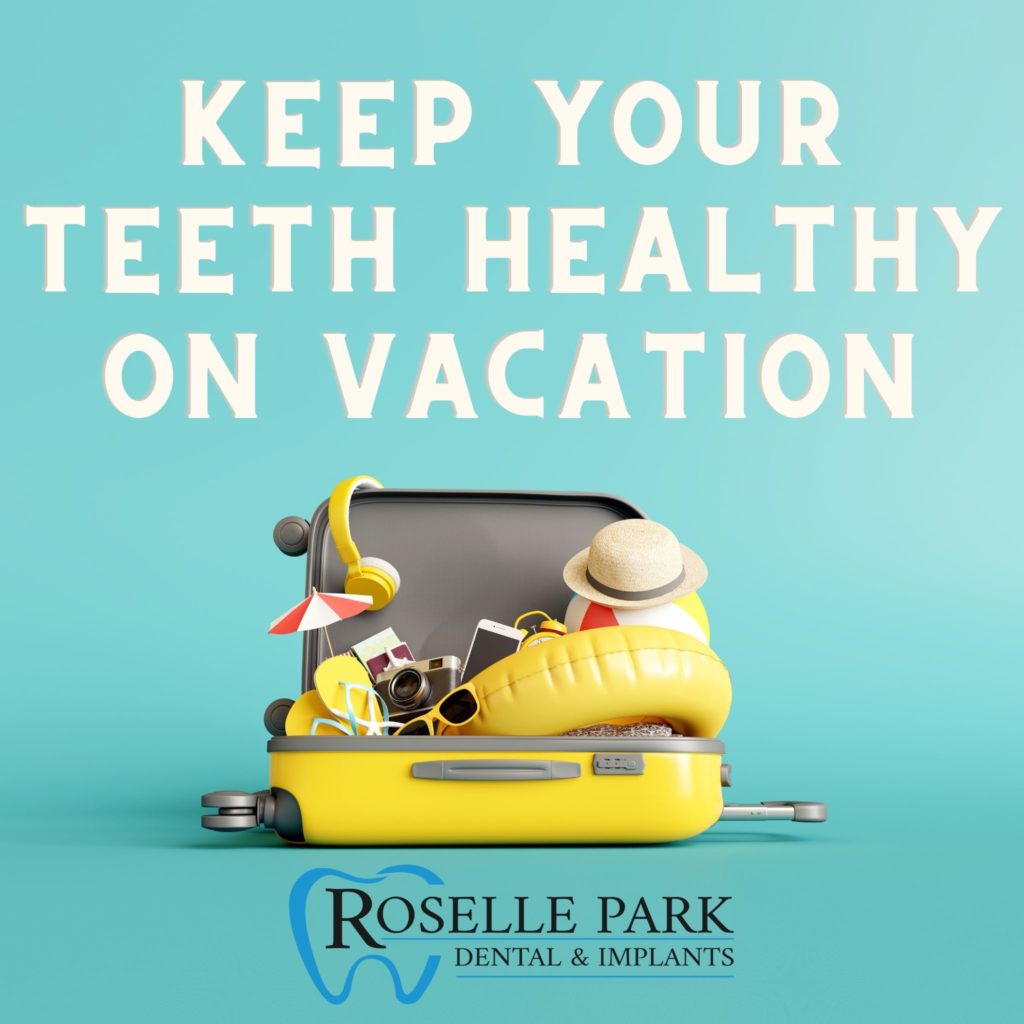 Summer is right around the corner! As the weather warms up and the school year winds to a close, many families are gearing up for a fun summer filled with exciting trips. Whether you plan to travel far and wide or enjoy day trips to explore the local attractions, it is important to maintain good oral hygiene habits while on the go.
To help you protect the health of your teeth and gums, here are our top tips to keep in mind when hitting the road:
Take a Break… But Not from Your Dental Routine!
Going on vacation is supposed to be a break from the norm, which can often mean deviating from our normal daily schedules. While its fine to let the kids stay up late and (hopefully) sleep in … don't let them forget to brush and floss before bed and in the morning. To help everyone remember – try leaving a friendly note on your pillows.
Be Prepared
The best way to ensure that the whole family can stick with their healthy dental habits when on vacation is to pack all the things everyone will need, including toothbrushes, floss, mouthwash and any extra dental appliances, such as mouthguards, retainers, and Invisalign trays*. To keep toothbrushes clean and germ free – pack each one in a separate plastic or silicone bag, or get each family member a tooth brush cover in their favorite color. If you are flying or trying to pack light, consider buying travel size tooth paste
On the Go
Some vacations are all about long lazy days, while others are action-packed without a dull moment. On busy days, bring a travel sized bottle of mouthwash along for the ride. If you can't brush your teeth after each meal, using mouthwash to rinse away residual food particles is the next best thing!
Water Wisely
Drinking enough water to stay hydrated is important for so many different aspects of our health – including our oral health. It helps the body produce enough saliva to flush away harmful sugars and debris left on your teeth after you eat or drink. But before you start chugging water on vacation – especially when traveling overseas or to a third-world country – be sure to research the safety of the drinking water. If you are visiting a place where it is recommended that people only drink bottled water, then you should avoid rinsing your tooth brush in the sink as well!
ICE (In Case of Emergency)
Despite our best efforts to be proactive and prevent any dental emergencies while on vacation, accidents can happen or problems arise. If you or one of your family members does have any issues with their teeth, gum or mouth while away, start by calling us at 908-245-1745 or emailing our office at roselleparkdental@.gmail.com. We can offer you guidance before you rush to an emergency room, and in some cases may be able to resolve your issue over the phone.
Visit the Dentist
The best way to avoid having dental issues arise and put a possible damper on your vacation fun, is to visit us at Roselle Park Dental & Implants for an annual checkup before the summer starts and you head off on your adventures. Having our skilled doctors and staff thoroughly clean and examine your mouth, teeth, and gums is the best way to prevent any problems before they wreak havoc on your trip.
Visit us online to schedule a dental checkup for you and your entire family!
Author: Sara Magnola Taner is an online marketing and communications specialist – with a website development and editorial background – who has 15 years of experience creating and editing clear, compelling content on diverse topics across a wide range of mediums.